Posted by comhack | Filed under Android, Tablet, Window Managers
Since I have had my Gtablet, I have flashed it numerous times with custom ROMS for the tablet. Most of this was due to new versions coming out almost daily fixing different issues. I had finally settled on the TnT Lite ROM which is kind of like the default UI but with an Android interface instead of the taptap crap. I was still not completely happy with this ROM because of the large status bar. Anyway, all of the devs have gotten together and basically combined all the ROMs to make a new one called VEGAn. From what I have read, this ROM will become the de-facto for the community:
VEGAn-TAB started out as a PORT of the ADVENT VEGA Tablets ROM. After getting it mostly running on my tablet and handing it two Roebeet and Rothnic (who were already working on ROMS of their own) we decided as a group to TEAM together and make the VEGAn-TAB rom a "super" ROM for the G-Tablet.
It has now come so far that it barely resembles the Vega Rom it came from and can now hardly even be called a PORT. With each BETA the team gets closer and closer to a FINAL Release!
-gTabDevs
http://vegantab.gojimi.com/about/
http://forum.xda-developers.com/showthread.php?t=859884
Screenshot of mine: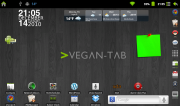 Posted by comhack | Filed under Android, Linux, Tablet
This is a nice long review of the ViewSonic G-tablet. The review has lots of high quality pictures and does a great hardware overview. Of course the software reviewed is the default ROM which is really crappy in my opinion. Most all of the issues the author complained about were due to the crappy default ROM. Anyway enjoy:
The slate computing market is about to explode, with a literal flood of new tablets releasing over the coming months. Many of them will be Android based, running Nvidia's Tegra 2 SoC. Nvidia made a big deal about Tegra 2 back at CES 2010, but for some reason, it's taken quite a bit of time for anything running the platform to hit the market. Finally, we have one – the Viewsonic G Tablet.

The specs are pretty straightforward; we've got a 10" WSVGA display with LED backlighting, Android 2.2 with a specialized UI skin on top, a 16GB microSD card, 2.4GHz 802.11n, Bluetooth 2.1, a 27 Whr lithium ion battery, and the Tegra 2 SoC. The dual-core Cortex A9 is clocked at a nice, round 1 GHz, and there's 512MB of LPDDR RAM on board. The GPU is Nvidia's Ultra-Low Power GeForce GPU and there are separate HD video encode and decode blocks also onboard. But the big deal with Tegra 2, as Anand went over in his first look at the SoC, is Cortex A9. The A9 is an out of order architecture with a relatively short pipeline, so it should be significantly faster than the in-order A8 on a per-clock basis………………..
http://www.anandtech.com/show/4054/first-look-viewsonic-gtablet-and-tegra-2-performance-preview
Posted by comhack | Filed under Android, Tablet
I thought I would post some screenshots of my tablet running TnT-Lite 2.1.1.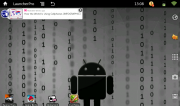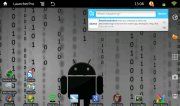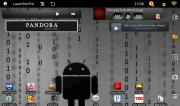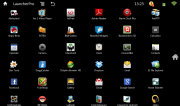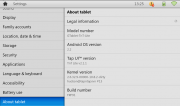 The fourth one is my main home screen. The last two shots show a screenshot of the menu open and the About screen.