Posted by comhack | Filed under Android, Tablet, Window Managers
Since I have had my Gtablet, I have flashed it numerous times with custom ROMS for the tablet. Most of this was due to new versions coming out almost daily fixing different issues. I had finally settled on the TnT Lite ROM which is kind of like the default UI but with an Android interface instead of the taptap crap. I was still not completely happy with this ROM because of the large status bar. Anyway, all of the devs have gotten together and basically combined all the ROMs to make a new one called VEGAn. From what I have read, this ROM will become the de-facto for the community:
VEGAn-TAB started out as a PORT of the ADVENT VEGA Tablets ROM. After getting it mostly running on my tablet and handing it two Roebeet and Rothnic (who were already working on ROMS of their own) we decided as a group to TEAM together and make the VEGAn-TAB rom a "super" ROM for the G-Tablet.
It has now come so far that it barely resembles the Vega Rom it came from and can now hardly even be called a PORT. With each BETA the team gets closer and closer to a FINAL Release!
-gTabDevs
http://vegantab.gojimi.com/about/
http://forum.xda-developers.com/showthread.php?t=859884
Screenshot of mine: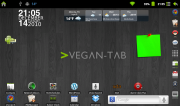 Leave a Reply
You must be logged in to post a comment.