Posted by comhack | Filed under Linux
Here is an updated screenshot of my main desktop on my ViewSonic Gtablet. I am running VEGAn Rom Beta 5.1 with Clem's kernel version 2.6.32.9-000001-g6e47897-dirty.
The widgets include:
Launcher Pro
Circle Battery Widget
Task Manager (Memory Free)
Minimalistic Text App (Clock and Day of Week)
Power Control
Button Savior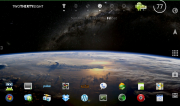 One Response to "Updated screenshot of my Gtablet"
comhack Says:
February 25th, 2011 at 4:34 am

Newest screenshot:
Leave a Reply
You must be logged in to post a comment.